Our Advertisers
Using a Starting Pin

If you're using a piloted bit to rout an irregular-shaped workpiece, the beginning of a cut can be a bit tricky. That's because the bit has a tendency to grab the workpiece.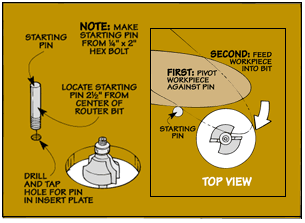 To reduce the chance of that happening, I use a starting pin. This is just a cutoff bolt that threads into a hole in the insert plate.
It's easy to use a starting pin. Simply pivot the workpiece against the pin as you feed it into the bit. The pin provides the leverage needed to make a controlled cut.