Our Advertisers
Routing Multiples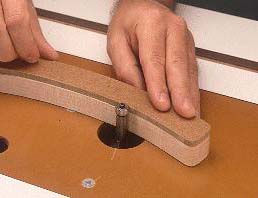 One of the simplest ways to duplicate curved parts is to use a template and a flush trim bit, see photo. It's quicker and more accurate than roughing out the shape on a band saw and sanding up to a layout line — especially when you're making multiples.
To start, make an exact template of the part (we use ¼"-thick Masonite). Then trace the template onto the workpiece and rough cut the shape to within 1/16" of the layout line. Once the part is roughed out, attache the template to the workpiece with double-sided carpet tape.
To rout the final shape, adjust the flush trim bit to the bearing rides against the template. Feed the workpiece into the bit is a right-to-left direction — on the left side of the bearing.