Our Advertisers
Router Retrofit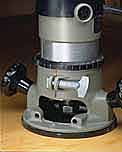 On my router, I've always had a difficult time turning the thumb screw that's used to adjust the bit up or down, see top photo. As a matter of fact, I even had to use pliers for additional leverage (and ended up cracking the aluminum housing).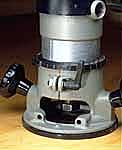 So recently, after coming across a push-button ratchet lever ($4) in a woodworking mail-order catalog, I decided to remove the thumb screw and replace it with the ratchet lever to make it easier for me to adjust the bit, see bottom photo.
After the ratchet is adjusted, you can loosen and tighten the housing with a single throw of the lever.
Fred Schmiedel
Baton Rouge, Louisiana