Our Advertisers
Using Contact Adhesive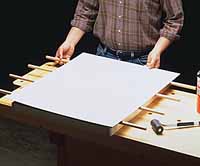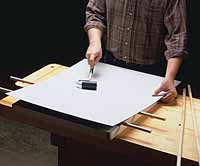 Contact adhesive will never replace regular yellow wood glue in my shop. But it does have its advantages. For gluing up two large surfaces it's quick and easy to use without having to worry about clamps or messy glue squeeze-out.
To apply contact adhesive, a regular paint brush is all that's needed. I "paint" a uniform layer on one face of both pieces, see top photo. Then let it dry and apply another coat. The key is to let the second coat dry completely. If the adhesive is shiny, it's too wet.
Once the surfaces are dry, the pieces can be joined together. But since the adhesive grips on contact, you'll want to use spacers between the pieces so that the workpiece can be adjusted as needed. I lay dowels between the pieces to start with, see middle photo.
Then after the workpiece is where I want it, I start removing the dowels from one end. Rolling the laminate down as you go will help create a good bond, see bottom photo.