Our Advertisers
Soldering Iron Stand
My small pen-type soldering iron doesn't have any stand or support, so I'm always worried about burning my benchtop when I put the soldering iron down.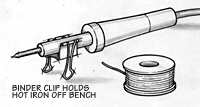 Rather than take the time to build a stand, I use a large binder clip meant to hold a large stack of paper together. I just slip the binder clip on the shaft of my soldering iron and use the clip's handle as legs, see drawing.
This set up is also handy for supporting the soldering iron in position when I need to hold something with both hands.
Allan Kirschner
Indianapolis, IN