Our Advertisers
Shop "Pencil Cushion"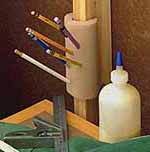 Pencils used to have a mysterious way of disappearing from my shop — until I started using this "pencil cushion".
It's just a piece of pipe insulation that fits onto a wall stud, see photo. Sticking pencils in the cushion keeps them handy and keeps the tips from breaking.
Peter Priestner
Chelmsford, Massachusetts