Our Advertisers
Sharpening a Scraper for Woodturning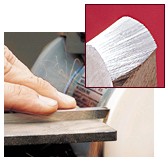 Sharpening a scraper is easy. The first thing you'll need to do is set the tool rest to match the bevel angle on the scraper, see detail below.
With the rest locked in place, creating the burr is just a matter of setting the scraper flat on the rest and sliding the cutting edge along the edge of the wheel, see photo. As you grind the scraper, a burr forms along the top edge, see inset photo.
For curved edges, the technique is a little different. To avoid grinding a flat spot, you'll need to swing the handle to the side as you move the cutting edge across the edge of the wheel, see drawing.