Our Advertisers
Sharp Tool Holder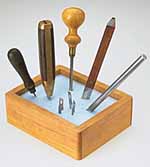 I use a number of small, sharp tools for scribing, marking, and cutting workpieces. But it's hard to protect the blades of these tools if they're stored loose in a drawer or toolbox.
To protect the sharp edges but still keep each tool close at hand, I made a small knife and tool holder.
It's nothing more than a piece of dense foam insulation (blue board). And to keep my block anchored to my workbench, I built a wood frame to fit around the foam. When the foam gets too chewed up, I just flip it over.
Lee Tjelmeland
Vinton, Iowa