Our Advertisers
Power Tool Shelf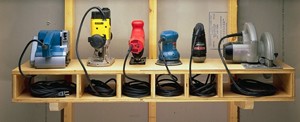 Besides providing storage for my portable power tools, this simple shelf solves another nagging problems as well — keeping the power cords from getting tangled up.
Each power cord fits in a separate compartment below the tool, see photo. These compartments are formed by a number of dividers that are sandwiched between a top and bottom.
The location of the dividers is determined by the amount of space each tool requires. Note: To allow the base of the tool to sit flat on the shelf, you may need to modify the top by cutting slots or drilling holes to acommodate blades or bits.
Fred Nordby
Red Deer, Alberta