Our Advertisers
Installing a T-Nut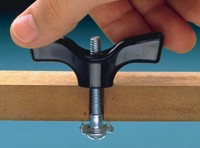 Normally I use a hammer to tap a T-nut (with prongs) into a workpiece. But sometimes I want to install a T-nut in a place where there isn't room to swing a hammer. In this case, I'll use a large plastic wing nut and a bolt instead of a hammer.
Start by threading the bolt all the way into the T-nut. Then slip the bolt and the barrel of the T-nut into the pre-srilled hole in the workpiece.
To seat the T-nut, just thread the wing nut on the end of the bolt. Tightening the wing nut draws the prongs on the T-nut into the workpiece, see photo.