Our Advertisers
Hanging Cleat Modification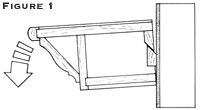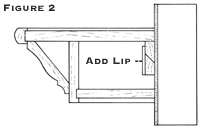 When hanging a shelf or cabinet, I like to use a simple cleat system. It features two thin strips with mating bevels cut at 45°. One piece is screwed to the wall. The other is attached to the shelf or cabinet. To hang the shelf, you simply set the shelf cleat on the wall cleat.
I planned to use this cleat system for the shelf in the drawings. But the shape of the shelf created a problem. The shelf sticks out from the wall farther than it hangs down from the cleat. So small bumps and vibrations caused the shelf to creep up the wall cleat, see Fig. 1. Before long, the shelf would have come crashing down.
To prevent this from happening, I removed the wall cleat and glued a hardboard lip to the front. This lip sticks up above the cleat so the shelf cleat (and the shelf) is trapped against the wall, see Fig. 2.