Our Advertisers
Edge Clamping on Your Sawhorse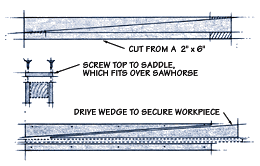 At every step in a woodworking project, it seems that I have to somehow secure a board. With conventional clamps, this becomes quite time consuming. So I came up with this quick and easy way to clamp wood to a sawhorse.
The concept centers around a long, tapered wedge running the full length of my sawhorse. One side of the sawhorse frame is counter-tapered, so that the two pieces fit together.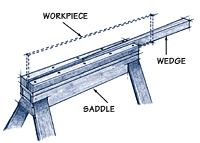 Now when I set a piece of stock on edge in the sawhorse, a quick tap on the wedge with a mallet will secure it. Another tap from underneath the wedge, and the wood is free.
Ivan C. Risley
Overland Park, KS