Our Advertisers
Dowel Storage Rack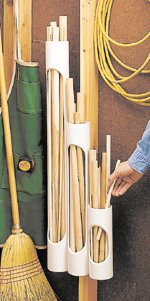 Like many woodworkers, I keep several different size dowels on hand. To provide easy access to the one I need, I made a simple storage rack.
The rack consists of three pieces of PVC pipe that "stairstep" up in height (10″, 22″, and 34″ in my case), see photo. If a dowel is too short to stick out the top of a pipe, it's still visible through a "window" opening in front.
When cutting this opening on the a bandsaw, it's a good idea to clamp the pipe to a board to keep it from rolling.
Norman Crowfoot
Tucson, Arizona