Our Advertisers
Cutting Leather to Fit in a Box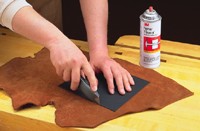 I built the small accessory box featured in Woodsmith No. 107 (it's the size of a jewelry box). But when it came time to cut the leather to fit in the bottom of the box, I used a different technique than that shown in the magazine.
Before cutting the leather to size, I glued it to a piece of posterboard with spray adhesive (available at art stores). It helps to first scuff the posterboard with sandpaper to give the adhesive something to grab.
With the leather fixed to the posterboard, I was able to cut it to exact size without worrying about it stretching. Then I just glued the leather and posterboard down in the bottom of the box.
Peter Sellon
Hudson, Massachusetts