Our Advertisers
Handy Chuck Key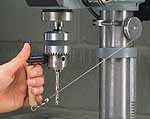 I'm always misplacing the chuck key to my drill press. So I fastened it to a retractable key chain that's attached to the column of the drill press, see photo.
The key chain is held in place with an ordinary hose clamp. And it's connected to the chuck key by means of a short dowel.
A hole drilled in one end of the dowel accepts the handle of the chuck key. (I used epoxy to hold it in place.) An eye hook is screwed into the opposite end of the dowel. Now the eye hook is simply slipped onto the ring at the end of the key chain.
Gary Vorgert
Epping, North Dakota