Our Advertisers
Drilling a Door Jamb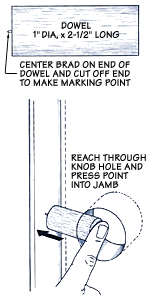 I recently purchased deadbolt locks for all my exterior doors. To be sure that they would work smoothly, I wanted a precision installation.
Each deadbolt lock came with a template to position it on the door, but no similar method for locating the strike plate on the jamb. I was worried about making a measurement error and positioning the hole and strike plate incorrectly. So I came up with a simple tool that perfectly aligns the hole in the jamb with the latch.
I centered a brad in one end of a short dowel the same diameter as the latch hole (1" in my case), then cut off the head, leaving a sharp point.
After drilling the holes in the doors, I put the dowel in the latch hole with the brad facing out. Then I closed the door tight, reached in through the knob hole, and pushed the dowel against the jamb. The brad left an impression showing me exactly where to center the strike plate.
Brad Hemmingsen
Denver, CO