Our Advertisers
Drill Holster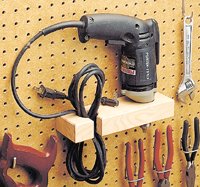 Here's a handy way to store your electric drill — a "holster" that hangs on a pegboard rack.
The holster is a scrap of "two-by" material with two openings cut in it. The drill chuck fits in a large hole. And the power cord slips into a keyhole-shaped notch.
By installing two L-hooks in the back edge, you can hang the holster securely on the pegboard.
Dick Grote
Palo Alto, California